Promoting Patient Safety.
AHRQ's Patient Safety Network (PSNet) features a collection of the latest news and resources on patient safety, innovations and toolkits, opportunities for free CME and trainings. The platform provides powerful searching and browsing capability, as well as the ability for users to customize the site around their interests (My Profile).
Browse the Collection
Popular Searches
What is Patient Safety?
The breadth of the field of patient safety is captured in various definitions. It has been defined as avoiding harm to patients from care that is intended to help them.1 It involves the prevention and mitigation of harm caused by errors of omission or commission in healthcare, and the establishment of operational systems and processes that minimize the likelihood of errors and maximize the likelihood of intercepting them when they occur.2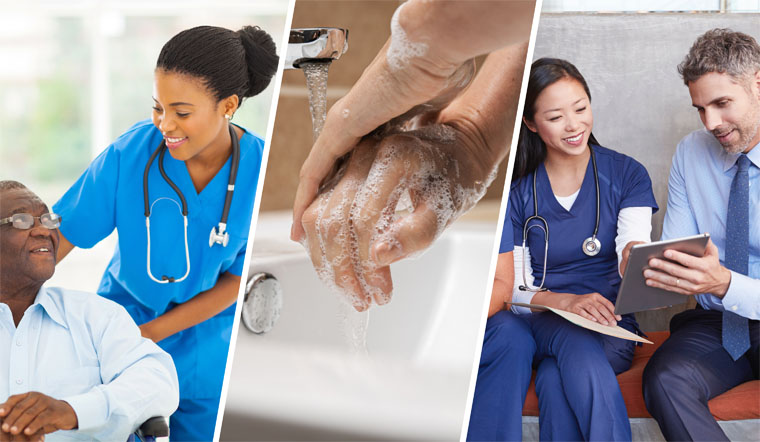 The PSNet Collection
December 1, 2021 Weekly Issue
PSNet highlights the latest patient safety literature, news, and expert commentary, including Weekly Updates, WebM&M, and Perspectives on Safety.
Ang D, Nieto K, Sutherland M, et al.
Am Surg

.
2021;
Epub Nov 12
.
Patient safety indicators (PSI) are measures that focus on quality of care and potentially preventable adverse events. This study estimated odds of preventable mortality of older adults with traumatic injuries and identified the PSIs that are associated with the highest level of preventable mortality.  Strategies to reduce preventable mortality in older adults are presented (e.g. utilization of national guidelines, minimization of central venous catheter use, addressing polypharmacy).
Jessurun JG, Hunfeld NGM, Van Rosmalen J, et al.
Int J Qual Health Care

.
2021;
33(4)
:mzab142
.
Reducing medication administration errors (MAEs) is an ongoing patient safety priority. This prospective study assessed the impact of automated unit dose dispensing with barcode-assisted medication administration on MAEs at one Dutch hospital. Implementation was associated with a lower probability of MAEs (particularly omission errors and wrong dose errors), but impact would likely be greater with increased compliance with barcode scanning. 
Theobald KA, Tutticci N, Ramsbotham J, et al.
Nurse Educ Pract

.
2021;
57
:103220
.
Simulation training is often used to develop clinical and nontechnical skills as part of nursing education.  This systematic review found that repeated simulation exposures can lead to gains in clinical reasoning and critical thinking. Two emerging concepts – situation awareness and teamwork – can enhance clinical reasoning within simulation. With more nursing schools turning to simulation to replace clinical site placement, which is in short supply, understanding of simulation in training is critical.
Sign up for PSNet Issues today!
Training and Education
Update Date: November 30, 2021
WebM&M Case Studies & Spotlight Cases
WebM&M (Morbidity & Mortality Rounds on the Web) features expert analysis of medical errors reported anonymously by our readers. Spotlight Cases include interactive learning modules available for CME. Commentaries are written by patient safety experts and published monthly. Contribute by Submitting a Case anonymously.
Hannah Spero, MSN, APRN, Angela E. Usher, PhD, LCSW, Brian Howard MS1, and Frederick J. Meyers, MD | November 30, 2021
A 77-year-old man was diagnosed with a rectal mass. After discussing goals of care with an oncologist, he declined surgical intervention and underwent targeted radiotherapy before being lost to follow up. The patient subsequently presented to Emergency Department after a fall at home and was found to have new metastatic lesions in both lungs and numerous enhancing lesions in the brain. Further discussions of the goals of care revealed that the patient desired to focus on comfort and on maintaining independence for as long as possible. The inpatient hospice team discussed the potential role of brain radiotherapy for palliation to meet the goal of maintaining independence. The patient successfully completed a course of central nervous system (CNS) radiation, which resulted in improved strength, energy, speech, and quality of life. This case represents a perceived delay in palliative radiation, an "error" in care.
Gary S. Leiserowitz, MD, MS and Herman Hedriana, MD | November 30, 2021
A 32-year-old pregnant woman presented with prelabor rupture of membranes at 37 weeks' gestation. During labor, the fetal heart rate dropped suddenly and the obstetric provider diagnosed umbilical cord prolapse and called for an emergency cesarean... Read More
Have you encountered medical errors or patient safety issues?
Have you encountered medical errors or patient safety issues? Submit your case below to help the medical community and to prevent similar errors in the future.
Upcoming Meeting/Conference
December 16, 2021. 1:00 – 2:00 PM (eastern).
Upcoming Meeting/Conference
Armstrong Institute for Patient Safety and Quality.
Illinois Meeting/Conference
AHA Training. March 6-7, 2021. Hyatt Regency Chicago, Chicago, IL.
Improvement Resources
Innovations
The Patient Safety Innovations Exchange highlights important innovations that can lead to improvements in patient safety.
Toolkits
Toolkits provide practical applications of PSNet research and concepts for front line providers to use in their day to day work.
Latest PSNet Libraries
Curated Libraries are groupings of PSNet content, curated by AHRQ and other patient safety experts. Watch
our introductory video
to learn more about this new feature and how it can be of benefit to you.
Subscribed
---
Created By: Agency for Healthcare Research and Quality (AHRQ)
Last Updated: November 22, 2021