Promoting Patient Safety.
AHRQ's Patient Safety Network (PSNet) features a collection of the latest news and resources on patient safety, innovations and toolkits, opportunities for free CME and trainings. The platform provides powerful searching and browsing capability, as well as the ability for users to customize the site around their interests (My Profile).
Browse the Collection
Popular Searches
What is Patient Safety?
The breadth of the field of patient safety is captured in various definitions. It has been defined as avoiding harm to patients from care that is intended to help them.1 It involves the prevention and mitigation of harm caused by errors of omission or commission in healthcare, and the establishment of operational systems and processes that minimize the likelihood of errors and maximize the likelihood of intercepting them when they occur.2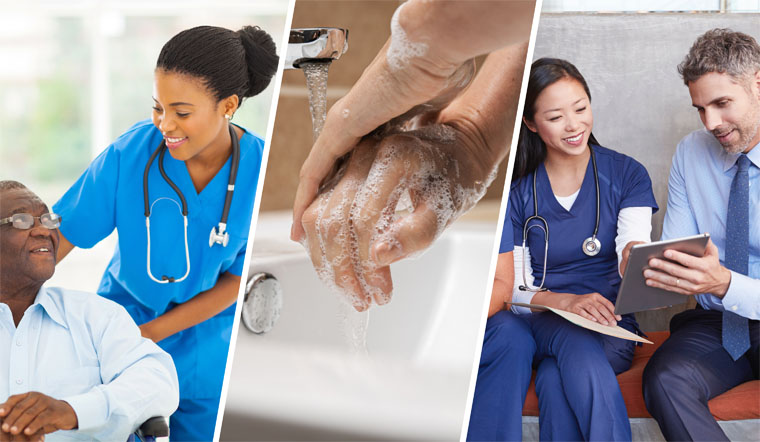 The PSNet Collection
August 3, 2022 Weekly Issue
PSNet highlights the latest patient safety literature, news, and expert commentary, including Weekly Updates, WebM&M, and Perspectives on Safety.
Burns ML, Saager L, Cassidy RB, et al.
JAMA Surg

.
2022;
Epub Jul 20
.
Anesthesiologists often must oversee multiple surgeries. This study evaluated adult patients from 23 US academic and private hospitals who underwent major surgery between 2010, and 2017, to examine anesthesiologist staffing ratios against patient morbidity and mortality. The authors categorized the staffing into four groups based on the number of operations the anesthesiologist was covering. The study found that increased anesthesiologist coverage was associated with greater risk-adjusted morbidity and mortality of surgical patients. Hospitals should consider evaluating anesthesiology staffing to determine potential increased risks.
Montgomery A, Lainidi O, Johnson J, et al.
Health Care Manage Rev

.
2022;
Epub Jun 16
.
When faced with a patient safety concern, staff need to decide whether to speak up or remain silent. Leaders play a crucial role in addressing contextual factors behind employees' decisions to remain silent. This article offers support for leaders to create a culture of psychological safety and encourage speaking up behaviors.
Maher V, Cwiek M.
Hosp Top

.
2022;
Epub Jul 20
.
Fear of criminal liability may inhibit clinicians from reporting medical errors, thereby reducing opportunities for learning. This commentary discusses recent legal actions brought against clinicians, including Tennessee nurse RaDonda Vaught, and the negative impact such actions may have on the longstanding disclosure movement.
Sign up for PSNet Issues today!
Training and Education
Update Date: August 5, 2022
WebM&M Case Studies & Spotlight Cases
WebM&M (Morbidity & Mortality Rounds on the Web) features expert analysis of medical errors reported anonymously by our readers. Spotlight Cases include interactive learning modules available for CME. Commentaries are written by patient safety experts and published monthly. Contribute by Submitting a Case anonymously.
Samson Lee, PharmD, and Mithu Molla, MD, MBA | August 5, 2022
This WebM&M highlights two cases where home diabetes medications were not reviewed during medication reconciliation and the preventable harm that could have occurred. The commentary discusses the importance of medication reconciliation, how to... Read More
Have you encountered medical errors or patient safety issues?
Have you encountered medical errors or patient safety issues? Submit your case below to help the medical community and to prevent similar errors in the future.
Improvement Resources
Innovations
The Patient Safety Innovations Exchange highlights important innovations that can lead to improvements in patient safety.
Toolkits
Toolkits provide practical applications of PSNet research and concepts for front line providers to use in their day to day work.
Latest PSNet Libraries
Curated Libraries are groupings of PSNet content, curated by AHRQ and other patient safety experts. Watch
our introductory video
to learn more about this new feature and how it can be of benefit to you.
Subscribed
---
Created By: Agency for Healthcare Research and Quality (AHRQ)
Last Updated: February 18, 2022
---
Created By: Sam Watson, AHRQ TEP Member, and Adam Novak
Last Updated: February 18, 2022
Subscribed
---
Created By: Dr. Yan Xiao, AHRQ TEP Member
Last Updated: February 18, 2022
Create Your Own Library
Create your own library to save and manage content on any topic of interest. You can start by
searching for articles
or by creating your library right here.