Promoting Patient Safety.
AHRQ's Patient Safety Network (PSNet) features a collection of the latest news and resources on patient safety, innovations and toolkits, opportunities for free CME and trainings. The platform provides powerful searching and browsing capability, as well as the ability for users to customize the site around their interests (My Profile).
Browse the Collection
Popular Searches
What is Patient Safety?
The breadth of the field of patient safety is captured in various definitions. It has been defined as avoiding harm to patients from care that is intended to help them.1 It involves the prevention and mitigation of harm caused by errors of omission or commission in healthcare, and the establishment of operational systems and processes that minimize the likelihood of errors and maximize the likelihood of intercepting them when they occur.2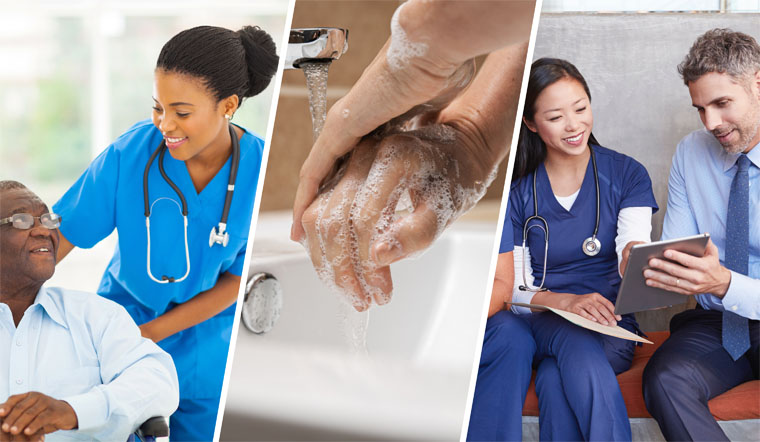 The PSNet Collection
June 29, 2022 Weekly Issue
PSNet highlights the latest patient safety literature, news, and expert commentary, including Weekly Updates, WebM&M, and Perspectives on Safety.
Findling MG, Zephyrin L, Bleich SN, et al.
Healthc (Amst)

.
2022;
10
:100630
.
Health inequities among people of color are the result of multiple systemic and clinician factors. This study shows Black and Hispanic/Latino patients who experience racism in healthcare, report worse views on the quality of their care and lower trust in their clinicians. These findings suggest that eliminating racism at the organization and clinician level may improve quality of care for patients of color.
Isaksson S, Schwarz A, Rusner M, et al.
J Patient Saf.
2022;
18
:325-330
.
Organizations may employ one or more methods for identifying and examining near misses and preventable adverse events, including structured record review, web-based incident reporting systems, and daily safety briefings. Using each of the three methods, this study identified the number and types of near misses and adverse events. Results indicate that each method identifies different numbers and types of adverse events, suggesting a multi-focal approach to adverse event data collection may more effectively inform organizations. 
Rosen PD, Klenzak S, Baptista S.
J Fam Pract

.
2022;
71
:124-132
.
Cognitive biases can impede decision-making and lead to poor care. This article summarizes the common types of cognitive errors and biases and highlights how cognitive biases can contribute to diagnostic errors. The authors apply these common types of errors and biases in four case examples and discuss how to mitigate these biases during the diagnostic process. 
Sign up for PSNet Issues today!
Training and Education
Update Date: May 16, 2022
WebM&M Case Studies & Spotlight Cases
WebM&M (Morbidity & Mortality Rounds on the Web) features expert analysis of medical errors reported anonymously by our readers. Spotlight Cases include interactive learning modules available for CME. Commentaries are written by patient safety experts and published monthly. Contribute by Submitting a Case anonymously.
Garima Agrawal, MD, MPH, and Mithu Molla, MD, MBA | May 16, 2022
This WebM&M describes two cases involving patients who became unresponsive in unconventional locations – inside of a computed tomography (CT) scanner and at an outpatient transplant clinic – and strategies to ensure that all healthcare teams are... Read More
Alexandria DePew, MSN, RN, James Rice, & Julie Chou, BSN | May 16, 2022
This WebM&M describes two incidences of the incorrect patient being transported from the Emergency Department (ED) to other parts of the hospital for tests or procedures. In one case, the wrong patient was identified before undergoing an... Read More
Have you encountered medical errors or patient safety issues?
Have you encountered medical errors or patient safety issues? Submit your case below to help the medical community and to prevent similar errors in the future.
Improvement Resources
Innovations
The Patient Safety Innovations Exchange highlights important innovations that can lead to improvements in patient safety.
Toolkits
Toolkits provide practical applications of PSNet research and concepts for front line providers to use in their day to day work.
Latest PSNet Libraries
Curated Libraries are groupings of PSNet content, curated by AHRQ and other patient safety experts. Watch
our introductory video
to learn more about this new feature and how it can be of benefit to you.
Subscribed
---
Created By: Agency for Healthcare Research and Quality (AHRQ)
Last Updated: February 18, 2022
---
Created By: Sam Watson, AHRQ TEP Member, and Adam Novak
Last Updated: February 18, 2022
Subscribed
---
Created By: Dr. Yan Xiao, AHRQ TEP Member
Last Updated: February 18, 2022
Create Your Own Library
Create your own library to save and manage content on any topic of interest. You can start by
searching for articles
or by creating your library right here.