Promoting Patient Safety.
AHRQ's Patient Safety Network (PSNet) features a collection of the latest news and resources on patient safety, innovations and toolkits, opportunities for free CME and trainings. The platform provides powerful searching and browsing capability, as well as the ability for users to customize the site around their interests (My Profile).
Browse the Collection
Popular Searches
What is Patient Safety?
The breadth of the field of patient safety is captured in various definitions. It has been defined as avoiding harm to patients from care that is intended to help them.1 It involves the prevention and mitigation of harm caused by errors of omission or commission in healthcare, and the establishment of operational systems and processes that minimize the likelihood of errors and maximize the likelihood of intercepting them when they occur.2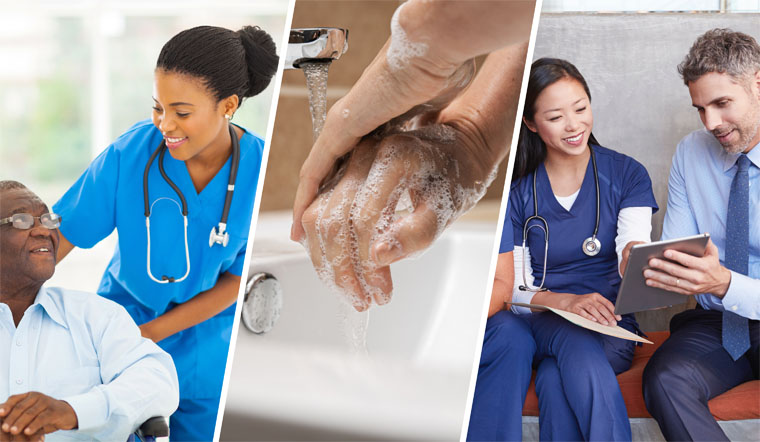 The PSNet Collection
October 27, 2021 Weekly Issue
PSNet highlights the latest patient safety literature, news, and expert commentary, including Weekly Updates, WebM&M, and Perspectives on Safety.
Alanazi FK, Sim J, Lapkin S.
Nurs Open

.
2021;
Epub Sep 20
.
Nurse attitudes towards patient safety culture have shown to impact missed nursing care, iatrogenic harm, and other adverse events. This review synthesizes research on nurses' safety attitudes and subsequent impact on patient outcomes. While most data on adverse events was self-reported, nurses indicated an improved safety culture resulted in fewer reported adverse events. Nurse managers can play an important role in improving patient safety culture and outcomes in their hospital units.
Bell SK, Bourgeois FC, DesRoches CM, et al.
BMJ Qual Saf

.
2021;
Epub Oct 16
.
Engaging patients and families in their own care can improve outcomes, safety, and satisfaction. This study brought patients, families, clinicians and experts together to identify patient-reported diagnostic process-related breakdowns. The group identified 7 categories, 40 subcategories, 19 contributing factors and 11 patient-reported impacts. Breakdowns were identified in each step of the diagnostic process.
Paulin J, Kurola J, Koivisto M, et al.
BMC Emerg Med

.
2021;
21(1)
:115
.
Emergency medical services (EMS) personnel are in the unique position of providing medical care outside of a healthcare facility. This prospective cohort study conducted in Finland explored the outcomes of patients who were treated by EMS personnel without going to the ED. Findings indicate that 80% of patients treated by EMS did not have any re-contact with the healthcare system (e.g., re-contacted EMS, went to the ED, were hospitalized), suggesting that EMS management of these patients is relatively safe.
Sign up for PSNet Issues today!
Training and Education
Update Date: October 27, 2021
WebM&M Case Studies & Spotlight Cases
WebM&M (Morbidity & Mortality Rounds on the Web) features expert analysis of medical errors reported anonymously by our readers. Spotlight Cases include interactive learning modules available for CME. Commentaries are written by patient safety experts and published monthly. Contribute by Submitting a Case anonymously.
Marissa G. Vadi, MD, MPH, and Mathew R. Malkin, MD | October 27, 2021
A 6-week-old infant underwent a craniotomy and excision of abnormal brain tissue for treatment of hemimegalencephaly and epilepsy. A right femoral central venous catheter and an arterial catheter were inserted, as well as 22-gauge intravenous... Read More
Robin Aldwinckle, MD and Edmund Florendo, MD | October 27, 2021
A 78-year-old Vietnamese-speaking woman with macular degeneration presented for a pars plana vitrectomy (PPV) under monitored anesthesia care (MAC) with an eye block. At this particular hospital, eye cases under MAC are typically performed with an... Read More
Have you encountered medical errors or patient safety issues?
Have you encountered medical errors or patient safety issues? Submit your case below to help the medical community and to prevent similar errors in the future.
Improvement Resources
Innovations
The Patient Safety Innovations Exchange highlights important innovations that can lead to improvements in patient safety.
Toolkits
Toolkits provide practical applications of PSNet research and concepts for front line providers to use in their day to day work.
Latest PSNet Libraries
Curated Libraries are groupings of PSNet content, curated by AHRQ and other patient safety experts. Watch
our introductory video
to learn more about this new feature and how it can be of benefit to you.
Subscribed
---
Created By: Agency for Healthcare Research and Quality (AHRQ)
Last Updated: October 12, 2021