Promoting Patient Safety.
AHRQ's Patient Safety Network (PSNet) features a collection of the latest news and resources on patient safety, innovations and toolkits, opportunities for free CME and trainings. The platform provides powerful searching and browsing capability, as well as the ability for users to customize the site around their interests (My Profile).
Browse the Collection
Popular Searches
What is Patient Safety?
The breadth of the field of patient safety is captured in various definitions. It has been defined as avoiding harm to patients from care that is intended to help them.1 It involves the prevention and mitigation of harm caused by errors of omission or commission in healthcare, and the establishment of operational systems and processes that minimize the likelihood of errors and maximize the likelihood of intercepting them when they occur.2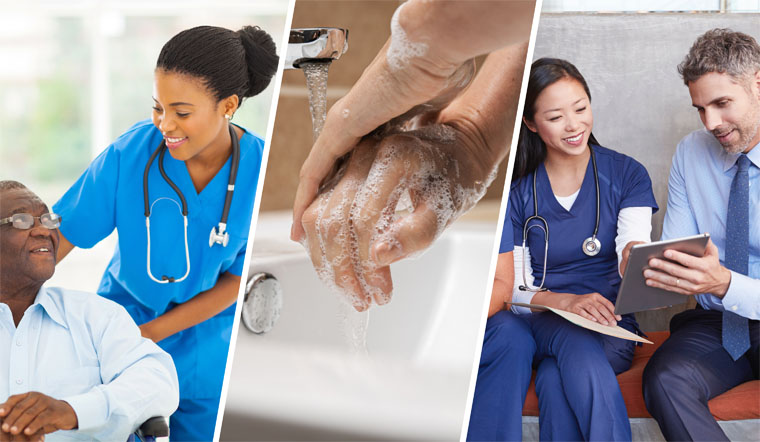 The PSNet Collection
February 8, 2023 Weekly Issue
PSNet highlights the latest patient safety literature, news, and expert commentary, including Weekly Updates, WebM&M, and Perspectives on Safety.
Farzandipour M, Nabovati E, Sharif R.
J Telemed Telecare

.
2023;
Epub Jan 23
.
Remote triage allows patients to receive guidance about whether to seek care and, if required, what level of care. This review of remote triage focuses exclusively on tele-triage studies conducted during the COVID-19 pandemic. The studies reported on five broad outcome categories (access to care, triage rates, patient safety, post-triage clinical outcomes, and patient satisfaction) with highly positive outcomes.
Fridman M, Korst LM, Reynen DJ, et al.
Jt Comm J Qual Patient Saf

.
2022;
Epub Nov 19
.
Severe maternal morbidity (SMM) is an international public health concern and the focus of hospital quality improvement activities. This article describes the development of a performance SMM (pSMM) that can be used to quantify potentially preventable, hospital-acquired SMM. The Centers for Disease Control and Prevention (CDC) SMM measure was adapted and results are stratified by hospital type.
Namiranian, MD, PhD K.
J Opioid Manag

.
2023;
19
:69-76
.
Prescription opioids are commonly used to manage surgical and non-surgical pain but misuse of opioids is a serious patient safety concern. In this retrospective cohort study of Veterans Health Administration patients, researchers found that opioid misuse among previously opioid-naïve patients increases significantly after 11 months of chronic use, regardless of whether the opioid was prescribed for surgical or non-surgical pain.
Sign up for PSNet Issues today!
Training and Education
Update Date: February 1, 2023
WebM&M Case Studies & Spotlight Cases
WebM&M (Morbidity & Mortality Rounds on the Web) features expert analysis of medical errors reported anonymously by our readers. Spotlight Cases include interactive learning modules available for CME. Commentaries are written by patient safety experts and published monthly. Contribute by Submitting a Case anonymously.
Have you encountered medical errors or patient safety issues?
Have you encountered medical errors or patient safety issues? Submit your case below to help the medical community and to prevent similar errors in the future.
Improvement Resources
Innovations
The Patient Safety Innovations Exchange highlights important innovations that can lead to improvements in patient safety.
Toolkits
Toolkits provide practical applications of PSNet research and concepts for front line providers to use in their day to day work.
Latest PSNet Libraries
Curated Libraries are groupings of PSNet content, curated by AHRQ and other patient safety experts. Watch
our introductory video
to learn more about this new feature and how it can be of benefit to you.
Create Your Own Library
Create your own library to save and manage content on any topic of interest. You can start by
searching for articles
or by creating your library right here.