Promoting Patient Safety.
AHRQ's Patient Safety Network (PSNet) features a collection of the latest news and resources on patient safety, innovations and toolkits, opportunities for free CME and trainings. The platform provides powerful searching and browsing capability, as well as the ability for users to customize the site around their interests (My Profile).
Browse the Collection
Popular Searches
What is Patient Safety?
The breadth of the field of patient safety is captured in various definitions. It has been defined as avoiding harm to patients from care that is intended to help them.1 It involves the prevention and mitigation of harm caused by errors of omission or commission in healthcare, and the establishment of operational systems and processes that minimize the likelihood of errors and maximize the likelihood of intercepting them when they occur.2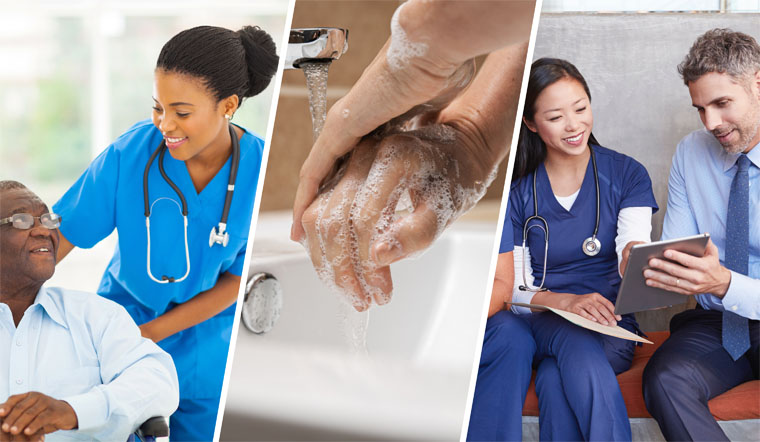 The PSNet Collection
January 26, 2022 Weekly Issue
PSNet highlights the latest patient safety literature, news, and expert commentary, including Weekly Updates, WebM&M, and Perspectives on Safety.
Chiel L, Freiman E, Yarahuan J, et al.
Hosp Pediatr

.
2021;
12(1)
:e35-e38
.
Medical residents write patient care orders overnight that are often not reviewed by attending physicians until the next morning. This study used the hospital's data warehouse and retrospective chart review to examine 5927 orders over a 12-month period, 538 were included in the analysis. Key reasons for order changes included medical decision making, patient trajectory, and medication errors. Authors suggest errors of omission may be an area to direct safety initiatives in the future.
Mercer K, Carter C, Burns C, et al.
JMIR Hum Factors

.
2021;
8(4)
:e22325
.
Clear communication regarding medication indications can improve patient safety. This scoping review explored how including the indication on a prescription may impact prescribing practice. Studies suggest that including the indication can help identify errors, support communication, and improve patient safety, but prescribers noted concerns about impacts on workflow and patient privacy.
Oura P.
Prev Med Rep

.
2021;
24
:101574
.
Accurate measurement of adverse event rates is critical to patient safety improvement efforts. This study used 2018 mortality data and ICD-10-CM codes to characterize adverse event deaths in the United States compared to non-adverse event deaths. The author estimates that 0.16-1.13% of deaths are attributed to an adverse event. Procedure-related complications contributed to the majority of adverse event deaths. The risk of death due to adverse event was higher for younger patients and Black patients.
Sign up for PSNet Issues today!
Training and Education
Update Date: January 26, 2022
WebM&M Case Studies & Spotlight Cases
WebM&M (Morbidity & Mortality Rounds on the Web) features expert analysis of medical errors reported anonymously by our readers. Spotlight Cases include interactive learning modules available for CME. Commentaries are written by patient safety experts and published monthly. Contribute by Submitting a Case anonymously.
Spotlight Case
CE/MOC
New
Hollie Porras, PharmD, BCPS, and Cathy Lammers, MD | January 26, 2022
This WebM&M features two cases involving patients undergoing surgical procedures who received perioperative opioid analgesics to aid in pain and sedation efforts and who experienced adverse events due to opioid stacking. The commentary provides evidence-based suggestions for optimal management of patients who are administered opioid therapy, including standardized sedation assessment, advanced patient monitoring strategies, appropriate use of naloxone, and non-opioid pain management strategies.
Gary Raff, MD, and Brian Goudy, MD | January 26, 2022
This case involves a 2-year-old girl with acute myelogenous leukemia and thrombocytopenia (platelet count 26,000 per microliter) who underwent implantation of a central venous catheter with a subcutaneous port. The anesthetist asked the surgeon to... Read More
Have you encountered medical errors or patient safety issues?
Have you encountered medical errors or patient safety issues? Submit your case below to help the medical community and to prevent similar errors in the future.
Improvement Resources
Innovations
The Patient Safety Innovations Exchange highlights important innovations that can lead to improvements in patient safety.
Toolkits
Toolkits provide practical applications of PSNet research and concepts for front line providers to use in their day to day work.
Latest PSNet Libraries
Curated Libraries are groupings of PSNet content, curated by AHRQ and other patient safety experts. Watch
our introductory video
to learn more about this new feature and how it can be of benefit to you.
---
Created By: Sam Watson, AHRQ TEP Member, and Adam Novak
Last Updated: January 27, 2022
Subscribed
---
Created By: Dr. Yan Xiao, AHRQ TEP Member
Last Updated: January 27, 2022
Subscribed
---
Created By: Agency for Healthcare Research and Quality (AHRQ)
Last Updated: January 23, 2022