Promoting Patient Safety.
AHRQ's Patient Safety Network (PSNet) features a collection of the latest news and resources on patient safety, innovations and toolkits, opportunities for free CME and trainings. The platform provides powerful searching and browsing capability, as well as the ability for users to customize the site around their interests (My Profile).
Browse the Collection
Popular Searches
What is Patient Safety?
The breadth of the field of patient safety is captured in various definitions. It has been defined as avoiding harm to patients from care that is intended to help them.1 It involves the prevention and mitigation of harm caused by errors of omission or commission in healthcare, and the establishment of operational systems and processes that minimize the likelihood of errors and maximize the likelihood of intercepting them when they occur.2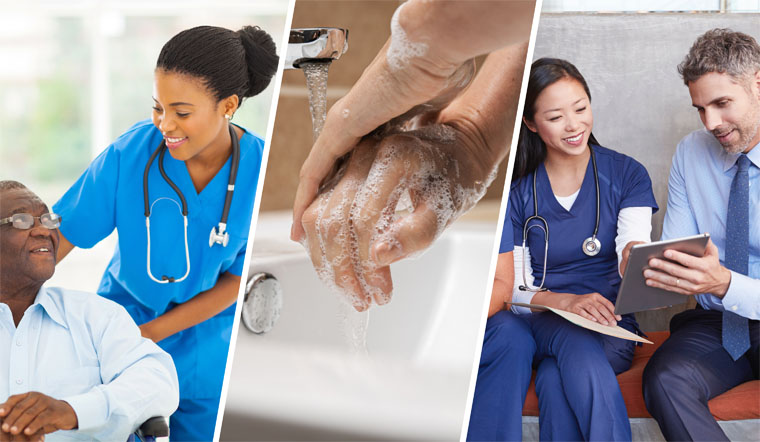 The PSNet Collection
March 29, 2023 Weekly Issue
PSNet highlights the latest patient safety literature, news, and expert commentary, including Weekly Updates, WebM&M, and Perspectives on Safety.
Agbar F, Zhang S, Wu Y, et al.
Nurse Educ Pract

.
2023;
67
:103565
.
Health systems seeking to improve patient safety culture (PSC) implement myriad of educational programs for their staff. This review identified 16 studies of PSC education programs that included before and after surveys or intervention and control groups. Results were generally positive, but repeated trainings may be needed to sustain the change. Additionally, based on the reporting using the AHRQ Hospital Survey of Patient Safety Culture (HSOPS), a culture of blame remained a pervasive problem despite improvements in other components of patient safety culture in many hospitals.
Riesenberg LA, Davis R, Heng A, et al.
Jt Comm J Qual Patient Saf

.
2022;
Epub Dec 15
.
Anesthesiologists frequently hand off care of complex, often unstable patients, which can introduce patient safety risks. This systematic review examined the education components of studies seeking to improve anesthesiology handoffs. The authors identified marked heterogeneity in the use of established curriculum development best practices and concluded that more than half of the medical education interventions were of low quality. The authors identify challenges that could be addressed to improve future educational interventions.
Xiao K, Yeung JC, Bolger JC.
Eur J Surg Oncol

.
2023;
49
:9-15
.
The COVID-19 pandemic has increased adoption of telehealth across various medical specialties, including surgery and oncology. This systematic review including 11 studies (3,336 patients) explored the impact of virtual follow-up appointments after cancer operations. The authors concluded that virtual visits following cancer surgery had similar safety to in-person visits along with high levels of satisfaction for surgeons and patients.
Sign up for PSNet Issues today!
Training and Education
Update Date: March 29, 2023
WebM&M Case Studies & Spotlight Cases
WebM&M (Morbidity & Mortality Rounds on the Web) features expert analysis of medical errors reported anonymously by our readers. Spotlight Cases include interactive learning modules available for CME. Commentaries are written by patient safety experts and published monthly. Contribute by Submitting a Case anonymously.
Have you encountered medical errors or patient safety issues?
Have you encountered medical errors or patient safety issues? Submit your case below to help the medical community and to prevent similar errors in the future.
Improvement Resources
Innovations
The Patient Safety Innovations Exchange highlights important innovations that can lead to improvements in patient safety.
Toolkits
Toolkits provide practical applications of PSNet research and concepts for front line providers to use in their day to day work.
Latest PSNet Libraries
Curated Libraries are groupings of PSNet content, curated by AHRQ and other patient safety experts. Watch
our introductory video
to learn more about this new feature and how it can be of benefit to you.
Create Your Own Library
Create your own library to save and manage content on any topic of interest. You can start by
searching for articles
or by creating your library right here.