Promoting Patient Safety.
AHRQ's Patient Safety Network (PSNet) features a collection of the latest news and resources on patient safety, innovations and toolkits, opportunities for free CME and trainings. The platform provides powerful searching and browsing capability, as well as the ability for users to customize the site around their interests (My Profile).
Browse the Collection
Popular Searches
What is Patient Safety?
The breadth of the field of patient safety is captured in various definitions. It has been defined as avoiding harm to patients from care that is intended to help them.1 It involves the prevention and mitigation of harm caused by errors of omission or commission in healthcare, and the establishment of operational systems and processes that minimize the likelihood of errors and maximize the likelihood of intercepting them when they occur.2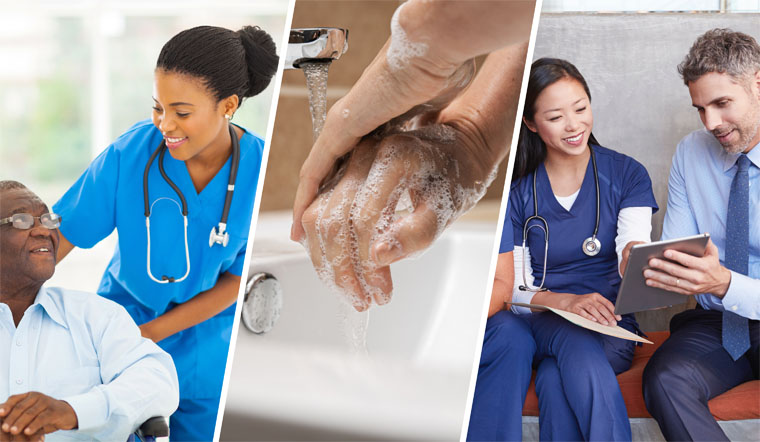 The PSNet Collection
September 22, 2021 Weekly Issue
PSNet highlights the latest patient safety literature, news, and expert commentary, including Weekly Updates, WebM&M, and Perspectives on Safety.
Gregory H, Cantley M, Calhoun C, et al.
Am J Emerg Med

.
2021;
46
:266-270
.
Medication safety continues to be a challenge in most healthcare settings, including emergency departments. In this academic emergency department, an overall error rate of 16.5% was observed, including errors in directions, quantity prescribed, and prescriptions written with refills. Involving a pharmacist at discharge may increase patient safety.
Liukka M, Hupli M, Turunen H.
Leadersh Health Serv (Bradf Engl)

.
2021;
Epub Sep 8
.
The Hospital Survey on Patient Safety Culture and Nursing Home Survey on Patient Safety Culture were used in one Finish healthcare organization to assess 1) differences in employee perceptions of safety culture in their respective settings, and 2) differences between professionals' and managers' views. Managers assessed safety culture higher than professionals in both settings. Acute care patient safety scores were significantly positive in 8 out of twelve domains, compared to only one in long-term care.
Weiner-Lastinger LM, Pattabiraman V, Konnor RY, et al.
Infect Control Hosp Epidemiol

.
2021;
Epub Sept 13
.
Using data reported to the National Healthcare Safety Network, this study identified significant increases in the incidence of healthcare-associated infections from 2019 to 2020. The authors conclude that these findings suggest a need to return to conventional infection control and prevention practices and prepare for future pandemics.
Sign up for PSNet Issues today!
Training and Education
Update Date: August 25, 2021
WebM&M Case Studies & Spotlight Cases
WebM&M (Morbidity & Mortality Rounds on the Web) features expert analysis of medical errors reported anonymously by our readers. Spotlight Cases include interactive learning modules available for CME. Commentaries are written by patient safety experts and published monthly. Contribute by Submitting a Case anonymously.
Narath Carlile, MD, MPH, Soheil El-Chemaly, MD, MPH, and Gordon D. Schiff, MD | August 25, 2021
A 31-year-old woman presented to the ED with worsening shortness of breath and was unexpectedly found to have a moderate-sized left pneumothorax, which was treated via a thoracostomy tube. After additional work-up and computed tomography (CT) imaging... Read More
Minna Wieck, MD | August 25, 2021
A seven-year-old girl with esophageal stenosis underwent upper endoscopy with esophageal dilation under general anesthesia. During the procedure, she was fully monitored with a continuous arterial oxygen saturation probe, heart rate monitors, two... Read More
Have you encountered medical errors or patient safety issues?
Have you encountered medical errors or patient safety issues? Submit your case below to help the medical community and to prevent similar errors in the future.
Improvement Resources
Innovations
The Patient Safety Innovations Exchange highlights important innovations that can lead to improvements in patient safety.
Toolkits
Toolkits provide practical applications of PSNet research and concepts for front line providers to use in their day to day work.
Latest PSNet Libraries
Our Libraries are collections of PSNet content, curated by AHRQ and by other experts in the patient safety field. View any of our Libraries below, or subscribe in order to be notified of any updates.
Subscribed
---
Created By: Agency for Healthcare Research and Quality (AHRQ)
Last Updated: September 24, 2021