Promoting Patient Safety.
AHRQ's Patient Safety Network (PSNet) features a collection of the latest news and resources on patient safety, innovations and toolkits, opportunities for free CME and trainings. The platform provides powerful searching and browsing capability, as well as the ability for users to customize the site around their interests (My Profile).
Browse the Collection
Popular Searches
What is Patient Safety?
The breadth of the field of patient safety is captured in various definitions. It has been defined as avoiding harm to patients from care that is intended to help them.1 It involves the prevention and mitigation of harm caused by errors of omission or commission in healthcare, and the establishment of operational systems and processes that minimize the likelihood of errors and maximize the likelihood of intercepting them when they occur.2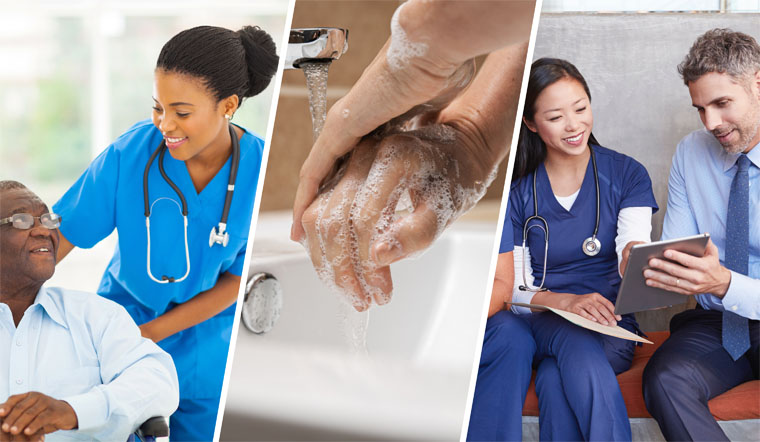 The PSNet Collection
March 22, 2023 Weekly Issue
PSNet highlights the latest patient safety literature, news, and expert commentary, including Weekly Updates, WebM&M, and Perspectives on Safety.
Taft T, Rudd EA, Thraen I, et al.
J Am Med Inform Assoc

.
2023;
Epub Mar 8
.
Medication administration errors are major threats to patient safety. This qualitative study with 32 nurses from two US health system explored medication administration hazards and inefficiencies. Participants identified ten persistent safety hazards and inefficiencies, including issues with communication between safety monitoring systems and nurses, alert fatigue, and an overreliance on medication administration technology. These findings highlight the importance of developing medication administration technology in collaboration with frontline nurses who are tasked with medication administration.
Washington A, Randall J.
J Racial Ethn Health Disparities

.
2023;
10
:883-891
.
Discrimination can contribute to health inequities and exacerbate disparities in cancer care. In this study, researchers used a survey tool and qualitative interviews to explore the experiences of perceived discrimination for Black women and how it impacts cervical cancer prevention. Study findings suggest that perceived high degrees of discrimination create mistrust between patients and providers and can impact health outcomes.
Zabin LM, Zaitoun RSA, Sweity EM, et al.
BMC Nurs

.
2023;
22
:39
.
Fostering a culture of safety is an essential component of improving patient safety and health care quality. This systematic review of seven articles identified a negative relationship between job-related stress among nurses and patient safety culture. Studies also reported that factors such as fatigue, workload, burnout, and workplace violence contribute to job-related stress and resulted in decreased patient safety culture.
Sign up for PSNet Issues today!
Training and Education
Update Date: March 15, 2023
WebM&M Case Studies & Spotlight Cases
WebM&M (Morbidity & Mortality Rounds on the Web) features expert analysis of medical errors reported anonymously by our readers. Spotlight Cases include interactive learning modules available for CME. Commentaries are written by patient safety experts and published monthly. Contribute by Submitting a Case anonymously.
Have you encountered medical errors or patient safety issues?
Have you encountered medical errors or patient safety issues? Submit your case below to help the medical community and to prevent similar errors in the future.
Improvement Resources
Innovations
The Patient Safety Innovations Exchange highlights important innovations that can lead to improvements in patient safety.
Toolkits
Toolkits provide practical applications of PSNet research and concepts for front line providers to use in their day to day work.
Latest PSNet Libraries
Curated Libraries are groupings of PSNet content, curated by AHRQ and other patient safety experts. Watch
our introductory video
to learn more about this new feature and how it can be of benefit to you.
Create Your Own Library
Create your own library to save and manage content on any topic of interest. You can start by
searching for articles
or by creating your library right here.