Promoting Patient Safety.
AHRQ's Patient Safety Network (PSNet) features a collection of the latest news and resources on patient safety, innovations and toolkits, opportunities for free CME and trainings. The platform provides powerful searching and browsing capability, as well as the ability for users to customize the site around their interests (My Profile).
Browse the Collection
Popular Searches
What is Patient Safety?
The breadth of the field of patient safety is captured in various definitions. It has been defined as avoiding harm to patients from care that is intended to help them.1 It involves the prevention and mitigation of harm caused by errors of omission or commission in healthcare, and the establishment of operational systems and processes that minimize the likelihood of errors and maximize the likelihood of intercepting them when they occur.2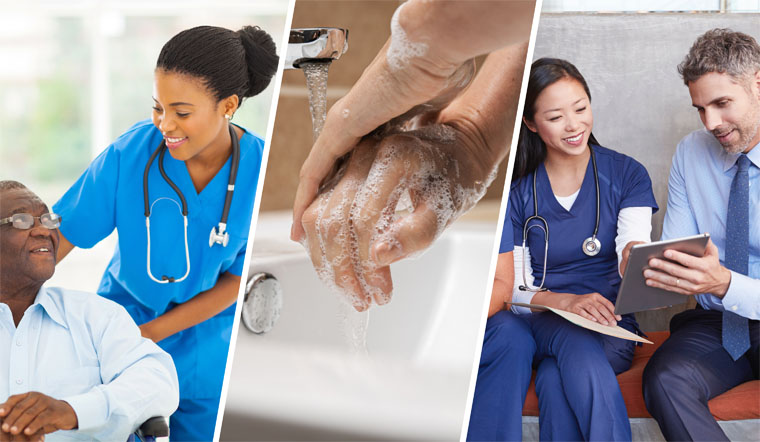 The PSNet Collection
January 12, 2022 Weekly Issue
PSNet highlights the latest patient safety literature, news, and expert commentary, including Weekly Updates, WebM&M, and Perspectives on Safety.
Al Rowily A, Jalal Z, Price MJ, et al.
Eur J Clin Pharmacol

.
2021;
Epub Dec 22
.
Although direct acting oral anticoagulants (DAOCs) are generally considered safer than older anticoagulants, they are still high-risk medications. This review found that between 5.3% and 37.3% of patients experienced either a prescription, administration, or dosing error. Prescribing errors constituted the majority of error types, and common causes were active failures, including wrong drug or wrong dose.
Hallvik SE, El Ibrahimi S, Johnston K, et al.
Pain

.
2022;
163(1)
:83-90
.
Opiates are a high-risk medication due to the potential for adverse events including misuse and overdose. This study examined whether dose reduction or discontinuation after high-dose chronic opioid therapy is associated with suicide, overdose, or other adverse events. In this cohort of Oregon Medicaid recipients, discontinuation increased the risk for suicide or opioid-related adverse events. Patients with stable or increasing doses had an increased risk of overdose.
Holmes J, Chipman M, Barbour T, et al.
Jt Comm J Qual Patient Saf

.
2022;
48(1)
:12-24
.
Air medical transport carries unique patient safety risks. In this study, researchers used simulation training and healthcare failure mode and effect analysis (HFMEA) to identify latent safety threats related to patient transport via helicopter. This approach identified 31 latent safety threats (18 were deemed critical) related to care coordination, facilities, equipment, and devices.
Sign up for PSNet Issues today!
Training and Education
Update Date: January 7, 2022
WebM&M Case Studies & Spotlight Cases
WebM&M (Morbidity & Mortality Rounds on the Web) features expert analysis of medical errors reported anonymously by our readers. Spotlight Cases include interactive learning modules available for CME. Commentaries are written by patient safety experts and published monthly. Contribute by Submitting a Case anonymously.
Jane L. Erb, MD, Sejal B. Shah, MD and Gordon D. Schiff, MD | January 7, 2022
An 18-year-old man with a history of untreated depression and suicide attempts (but no history of psychiatric hospitalizations) was seen in the ED for suicidal ideation after recent gun purchase. Due to suicidal ideation, he was placed on safety hold... Read More
Candice Sauder, MD, MS, MEd, FACS and Kara T Kleber, MD, MA | January 7, 2022
A 52-year-old woman presented for a lumpectomy with lymphoscintigraphy and sentinel lymph node biopsy (SLNB) after being diagnosed with ductal carcinoma in situ (DICS). On the day of surgery, the patient was met in the pre-operative unit by several... Read More
Have you encountered medical errors or patient safety issues?
Have you encountered medical errors or patient safety issues? Submit your case below to help the medical community and to prevent similar errors in the future.
Improvement Resources
Innovations
The Patient Safety Innovations Exchange highlights important innovations that can lead to improvements in patient safety.
Toolkits
Toolkits provide practical applications of PSNet research and concepts for front line providers to use in their day to day work.
Latest PSNet Libraries
Curated Libraries are groupings of PSNet content, curated by AHRQ and other patient safety experts. Watch
our introductory video
to learn more about this new feature and how it can be of benefit to you.
Subscribed
---
Created By: Dr. Yan Xiao, AHRQ TEP Member
Last Updated: January 14, 2022
Subscribed
---
Created By: Agency for Healthcare Research and Quality (AHRQ)
Last Updated: January 13, 2022