Promoting Patient Safety.
AHRQ's Patient Safety Network (PSNet) features a collection of the latest news and resources on patient safety, innovations and toolkits, opportunities for free CME and trainings. The platform provides powerful searching and browsing capability, as well as the ability for users to customize the site around their interests (My Profile).
Browse the Collection
Popular Searches
What is Patient Safety?
The breadth of the field of patient safety is captured in various definitions. It has been defined as avoiding harm to patients from care that is intended to help them.1 It involves the prevention and mitigation of harm caused by errors of omission or commission in healthcare, and the establishment of operational systems and processes that minimize the likelihood of errors and maximize the likelihood of intercepting them when they occur.2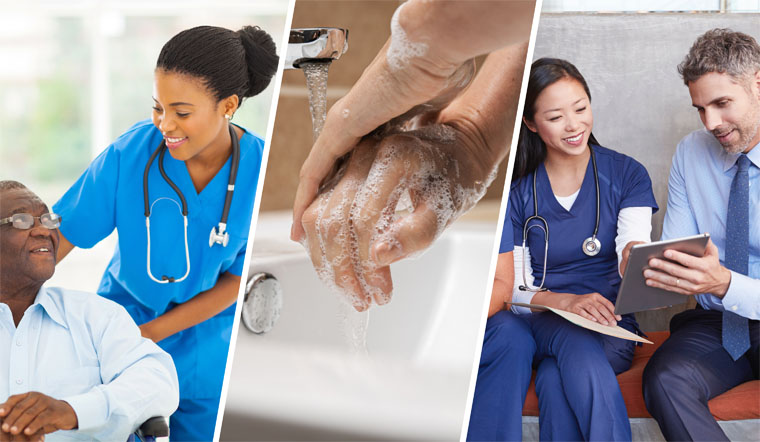 The PSNet Collection
September 28, 2022 Weekly Issue
PSNet highlights the latest patient safety literature, news, and expert commentary, including Weekly Updates, WebM&M, and Perspectives on Safety.
Hodkinson A, Zhou, A, Johnson J, et al.
BMJ

.
2022;
378
:e070442
.
Clinician burnout is a significant issue that can impact patient safety. This systematic review and meta-analysis showed physicians with burnout were significantly more dissatisfied with their jobs, were more regretful of their chosen career path, and had higher intention to leave their jobs. The association between burnout and patient satisfaction, patient safety, and professionalism is also discussed.
Richie CD, Castle JT, Davis GA, et al.
Angiology

.
2022;
73
:712-715
.
Hospital-acquired venous thromboembolism (VTE) continues to be a significant source of preventable patient harm. This study retrospectively examined patients admitted with VTE and found that only 15% received correct risk stratification and appropriate management and treatment. The case review found that patients were commonly incorrectly stratified, received incorrect pharmaceutical treatment, or inadequate application of mechanical prophylaxis (e.g., intermittent compression).
Yuan CT, Dy SM, Yuanhong Lai A, et al.
Am J Med Qual

.
2022;
37
:379-387
.
Patient safety in ambulatory care settings is receiving increased attention. Based on interviews and focus groups with patients, providers, and staff at ten patient-centered medical homes, this qualitative study explored perceived facilitators and barriers to improving safety in ambulatory care. Participants identified several safety issues, including communication failures and challenges with medication reconciliation, and noted the importance of health information systems and dedicated resources to advance patient safety. Patients also emphasized the importance of engagement in developing safety solutions. A recent PSNet perspective discusses patient safety challenges in ambulatory care, particularly during the COVID-19 pandemic.
Sign up for PSNet Issues today!
Training and Education
Update Date: September 28, 2022
WebM&M Case Studies & Spotlight Cases
WebM&M (Morbidity & Mortality Rounds on the Web) features expert analysis of medical errors reported anonymously by our readers. Spotlight Cases include interactive learning modules available for CME. Commentaries are written by patient safety experts and published monthly. Contribute by Submitting a Case anonymously.
Have you encountered medical errors or patient safety issues?
Have you encountered medical errors or patient safety issues? Submit your case below to help the medical community and to prevent similar errors in the future.
Improvement Resources
Innovations
The Patient Safety Innovations Exchange highlights important innovations that can lead to improvements in patient safety.
Toolkits
Toolkits provide practical applications of PSNet research and concepts for front line providers to use in their day to day work.
Latest PSNet Libraries
Curated Libraries are groupings of PSNet content, curated by AHRQ and other patient safety experts. Watch
our introductory video
to learn more about this new feature and how it can be of benefit to you.
---
Created By: Sam Watson, AHRQ TEP Member, and Adam Novak
Last Updated: September 8, 2022
Subscribed
---
Created By: Dr. Yan Xiao, AHRQ TEP Member
Last Updated: September 6, 2022
Subscribed
---
Created By: Agency for Healthcare Research and Quality (AHRQ)
Last Updated: February 18, 2022
Create Your Own Library
Create your own library to save and manage content on any topic of interest. You can start by
searching for articles
or by creating your library right here.