Perspectives
Our Perspectives on Safety section features expert viewpoints on current themes in patient safety, including interviews and written essays published monthly. Annual Perspectives highlight vital and emerging patient safety topics.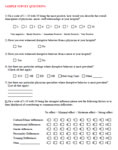 Alan H. Rosenstein, MD, MBA; Michelle O'Daniel, MSG, MHA |
The 1999 Institute of Medicine report highlighted the need for health care providers to address the serious concerns raised about the quality and safety of patient care being provided in our health care organizations. Organizations responded by looking at new ways to fix the system, mostly through the introduction of new technologies and system/process redesign. Advances have been made, but there are still significant opportunities for improvement. Is the barrier poor system or process design, or is it related to addressing basic human behaviors?
Thomas H. Gallagher, MD, is Associate Professor in the Department of Medicine and the Department of Medical History and Ethics at the University of Washington in Seattle. Dr. Gallagher's current research covers the disclosure of medical errors, examining patients' and doctors' attitudes about disclosure, how best to train providers to disclose and apologize for errors, and how to create a system that promotes appropriate disclosure. We asked him to speak with us about new developments in the field of patient disclosure and apologies.