Perspectives
Our Perspectives on Safety section features expert viewpoints on current themes in patient safety, including interviews and written essays published monthly. Annual Perspectives highlight vital and emerging patient safety topics.
P. Daniel Patterson, PhD, NRP, and Donald M. Yealy, MD |
This piece explores the key role of emergency medical services in providing care to patients at their moment of greatest need, safety hazards in this field, and opportunities for improvement.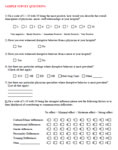 Alan H. Rosenstein, MD, MBA; Michelle O'Daniel, MSG, MHA |
The 1999 Institute of Medicine report highlighted the need for health care providers to address the serious concerns raised about the quality and safety of patient care being provided in our health care organizations. Organizations responded by looking at new ways to fix the system, mostly through the introduction of new technologies and system/process redesign. Advances have been made, but there are still significant opportunities for improvement. Is the barrier poor system or process design, or is it related to addressing basic human behaviors?
J. Bryan Sexton, PhD, MA, is Assistant Professor, Department of Anesthesiology and Critical Care Medicine, at the Johns Hopkins University School of Medicine. Trained as a social psychologist, he has become one of the world's foremost authorities on the role of culture in patient safety. He developed the widely used Safety Attitudes Questionnaire and is one of the lead investigators of the Michigan Keystone ICU project, which aims to change practice and culture in intensive care units (ICUs) throughout the state. His research examines the connections between attitudes, behaviors, and outcomes in high-risk team environments, particularly aviation and medicine. We asked him to speak with us about safety climate surveys and efforts to change safety culture.