Promoting Patient Safety.
AHRQ's Patient Safety Network (PSNet) features a collection of the latest news and resources on patient safety, innovations and toolkits, opportunities for free CME and trainings. The platform provides powerful searching and browsing capability, as well as the ability for users to customize the site around their interests (My Profile).
Browse the Collection
Popular Searches
What is Patient Safety?
The breadth of the field of patient safety is captured in various definitions. It has been defined as avoiding harm to patients from care that is intended to help them.1 It involves the prevention and mitigation of harm caused by errors of omission or commission in healthcare, and the establishment of operational systems and processes that minimize the likelihood of errors and maximize the likelihood of intercepting them when they occur.2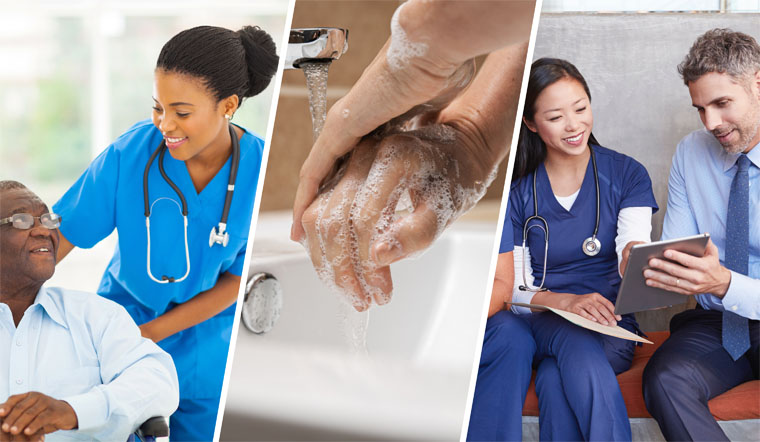 The PSNet Collection
January 19, 2022 Weekly Issue
PSNet highlights the latest patient safety literature, news, and expert commentary, including Weekly Updates, WebM&M, and Perspectives on Safety.
Eiding H, Røise O, Kongsgaard UE.
J Patient Saf

.
2022;
18(1)
:e315-e319
.
Reporting patient safety incidents is essential to improving patient safety. This study compared the number of self-reported (to the study team) safety incidents during interhospital transport and the number of incidents submitted to the hospital's reporting system. Nearly half of all patient transports had at least one self-reported incident; however, only 1% of incidents were reported to the hospital's electronic reporting system.
Vaughan CP, Hwang U, Vandenberg AE, et al.
BMJ Open Qual

.
2021;
10(4)
:e001369
.
Prescribing potentially inappropriate medications (such as antihistamines, benzodiazepines, and muscle relaxants) can lead to adverse health outcomes. The Enhancing Quality of Prescribing Practices for Older Adults in the Emergency Department (EQUIPPED) program is a multicomponent intervention intended to reduce potentially inappropriate prescribing among older adults who are discharged from the emergency department. Twelve months after implementation at three academic health systems, the EQUIPPED program significantly reduced overall potentially inappropriate prescribing at one site; the proportion of benzodiazepine prescriptions decreased across all sites.
Viscardi MK, French R, Brom H, et al.
Policy Polit Nurs Pract

.
2022;
Epub Jan 6
.
Health care work environments can influence safety culture and teamwork. This study used multiyear survey data from registered nurses in 503 hospitals across four states to explore the association between nurse work environment and healthcare quality, patient safety, and patient outcomes. Findings indicate that nurse work environment (such as nurse participation in hospital affairs, nurse manager capability, leadership support, and nurse-physician relationships) is an important factor to improving the experiences of patients and nurses, especially those in hospitals caring for economically disadvantaged patients.
Sign up for PSNet Issues today!
Training and Education
Update Date: January 7, 2022
WebM&M Case Studies & Spotlight Cases
WebM&M (Morbidity & Mortality Rounds on the Web) features expert analysis of medical errors reported anonymously by our readers. Spotlight Cases include interactive learning modules available for CME. Commentaries are written by patient safety experts and published monthly. Contribute by Submitting a Case anonymously.
Jane L. Erb, MD, Sejal B. Shah, MD and Gordon D. Schiff, MD | January 7, 2022
An 18-year-old man with a history of untreated depression and suicide attempts (but no history of psychiatric hospitalizations) was seen in the ED for suicidal ideation after recent gun purchase. Due to suicidal ideation, he was placed on safety hold... Read More
Candice Sauder, MD, MS, MEd, FACS and Kara T Kleber, MD, MA | January 7, 2022
A 52-year-old woman presented for a lumpectomy with lymphoscintigraphy and sentinel lymph node biopsy (SLNB) after being diagnosed with ductal carcinoma in situ (DICS). On the day of surgery, the patient was met in the pre-operative unit by several... Read More
Have you encountered medical errors or patient safety issues?
Have you encountered medical errors or patient safety issues? Submit your case below to help the medical community and to prevent similar errors in the future.
Improvement Resources
Innovations
The Patient Safety Innovations Exchange highlights important innovations that can lead to improvements in patient safety.
Toolkits
Toolkits provide practical applications of PSNet research and concepts for front line providers to use in their day to day work.
Latest PSNet Libraries
Curated Libraries are groupings of PSNet content, curated by AHRQ and other patient safety experts. Watch
our introductory video
to learn more about this new feature and how it can be of benefit to you.
---
Created By: Sam Watson, AHRQ TEP Member, and Adam Novak
Last Updated: January 23, 2022
Subscribed
---
Created By: Agency for Healthcare Research and Quality (AHRQ)
Last Updated: January 23, 2022
Subscribed
---
Created By: Dr. Yan Xiao, AHRQ TEP Member
Last Updated: January 23, 2022