Promoting Patient Safety.
AHRQ's Patient Safety Network (PSNet) features a collection of the latest news and resources on patient safety, innovations and toolkits, opportunities for free CME and trainings. The platform provides powerful searching and browsing capability, as well as the ability for users to customize the site around their interests (My Profile).
Browse the Collection
Popular Searches
What is Patient Safety?
The breadth of the field of patient safety is captured in various definitions. It has been defined as avoiding harm to patients from care that is intended to help them.1 It involves the prevention and mitigation of harm caused by errors of omission or commission in healthcare, and the establishment of operational systems and processes that minimize the likelihood of errors and maximize the likelihood of intercepting them when they occur.2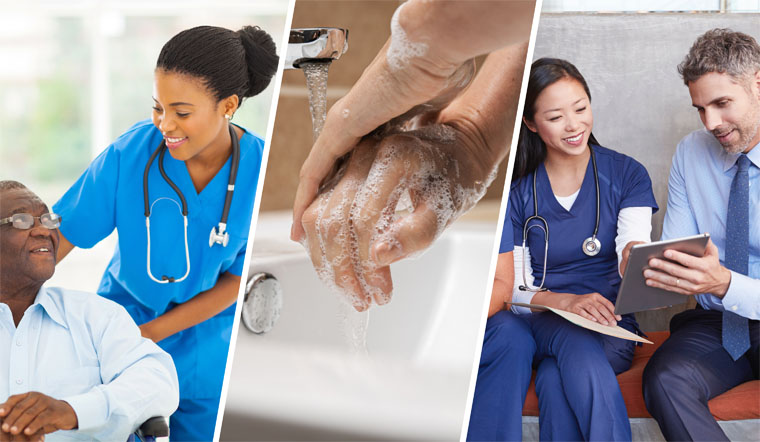 The PSNet Collection
October 13, 2021 Weekly Issue
PSNet highlights the latest patient safety literature, news, and expert commentary, including Weekly Updates, WebM&M, and Perspectives on Safety.
Lafferty M, Harrod M, Krein SL, et al.
J Am Med Inform Assoc

.
2021;
Epub Sep 28
.
Use of one-way communication technologies, such as pagers, in hospitals have led to workarounds to improve communication. Through observation, shadowing, interviews, and focus groups with nurses and physicians, this study describes antecedents, types, and effects of workarounds and their potential impact on patient safety.
Pinnock R, Ritchie D, Gallagher S, et al.
Adv Health Sci Educ Theory Pract

.
2021;
26(3)
:785-809
.
Cognition is a recognized human factor that can contribute to medical error. This systematic review explored whether mindful practice can improve diagnosis in healthcare. Of the 33 included studies, the majority were non-empirical; however, the authors tentatively conclude that mindful practice may be a promising method to improve diagnostic accuracy and reduce error.
Zaheer S, Ginsburg LR, Wong HJ, et al.
BMC Nurs

.
2021;
20(1)
:134
.
A culture of safety is essential to reducing medical errors and improving patient safety. In this mixed-methods study, researchers found that acute care nurses' perceptions of senior leadership, teamwork, and turnover intention were associated with perceived patient safety.
Sign up for PSNet Issues today!
Training and Education
Update Date: September 29, 2021
WebM&M Case Studies & Spotlight Cases
WebM&M (Morbidity & Mortality Rounds on the Web) features expert analysis of medical errors reported anonymously by our readers. Spotlight Cases include interactive learning modules available for CME. Commentaries are written by patient safety experts and published monthly. Contribute by Submitting a Case anonymously.
Florence Tan, PharmD, Karnjit Johl, MD and Mariya Kotova, PharmD | September 29, 2021
This case describes multiple emergency department (ED) encounters and hospitalizations experienced by a middle-aged woman with sickle cell crisis and a past history of multiple, long admissions related to her sickle cell disease. The multiple encounters highlight the challenges of opioid prescribing for patients with chronic, non-cancer pain. The commentary discusses the limitations of prescription drug monitoring program (PDMP) data for patients with chronic pain, challenges in opioid dose conversions, and increasing patient safety through safe medication prescribing and thorough medication reconciliation.
Linnea Lantz, DO, Joseph Yoon, MD, and David Barnes, MD, FACEP | September 29, 2021
A 44-year-old man presented to his primary care physician (PCP) with complaints of new onset headache, photophobia, and upper respiratory tract infections. He had a recent history of interferon treatment for Hepatitis C infection and a remote history of cervical spine surgery requiring permanent spinal hardware. On physical examination, his neck was tender, but he had no neurologic abnormalities. He was sent home from the clinic with advice to take over-the-counter analgesics. Over the next several days, the patient was evaluated for the same or similar symptoms again by his PCP and was seen by the emergency department and urgent care clinics before being admitted to the hospital; however, he was misdiagnosed with Staphylococcal meningitis, and it was not until his third inpatient day when cervical magnetic resonance imaging (MRI) showed a spinal epidural abscess.
Have you encountered medical errors or patient safety issues?
Have you encountered medical errors or patient safety issues? Submit your case below to help the medical community and to prevent similar errors in the future.
Improvement Resources
Innovations
The Patient Safety Innovations Exchange highlights important innovations that can lead to improvements in patient safety.
Toolkits
Toolkits provide practical applications of PSNet research and concepts for front line providers to use in their day to day work.
Latest PSNet Libraries
Curated Libraries are groupings of PSNet content, curated by AHRQ and other patient safety experts. Watch
our introductory video
to learn more about this new feature and how it can be of benefit to you.
Subscribed
---
Created By: Agency for Healthcare Research and Quality (AHRQ)
Last Updated: October 12, 2021