Promoting Patient Safety.
AHRQ's Patient Safety Network (PSNet) features a collection of the latest news and resources on patient safety, innovations and toolkits, opportunities for free CME and trainings. The platform provides powerful searching and browsing capability, as well as the ability for users to customize the site around their interests (My Profile).
Browse the Collection
Popular Searches
What is Patient Safety?
The breadth of the field of patient safety is captured in various definitions. It has been defined as avoiding harm to patients from care that is intended to help them.1 It involves the prevention and mitigation of harm caused by errors of omission or commission in healthcare, and the establishment of operational systems and processes that minimize the likelihood of errors and maximize the likelihood of intercepting them when they occur.2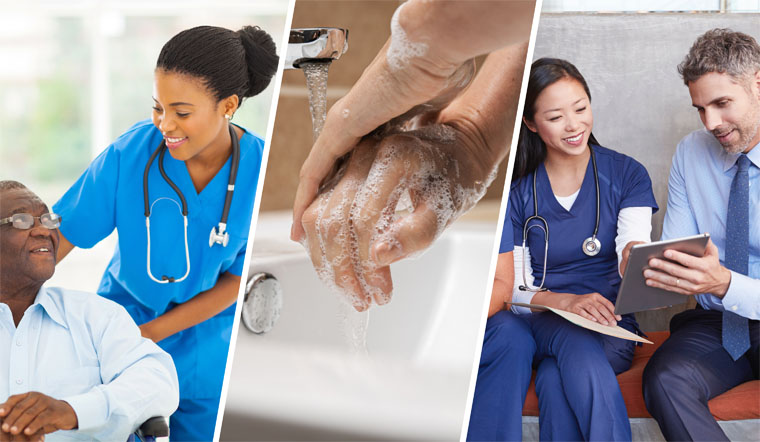 The PSNet Collection
July 28, 2021 Weekly Issue
PSNet highlights the latest patient safety literature, news, and expert commentary, including Weekly Updates, WebM&M, and Perspectives on Safety.
Geerts JM, Kinnair D, Taheri P, et al.
JAMA Netw Open

.
2021;
4(7)
:e2120295
.
The COVID-19 pandemic has disrupted many aspects of health care delivery and has placed unprecedented pressure on health care workers. This consensus statement, based on input from an international panel of individuals with expertise in health leadership, health care, and public health, outlines 10 imperatives to guide health and public leaders during the post emergency stage of the pandemic. Imperatives addressed in the framework include supporting staff well-being and psychological health, preparing for future emergencies, managing the backlog of delayed care, and the importance of sustaining learning, innovations and collaborations that arose during the pandemic.
Andel SA, Tedone AM, Shen W, et al. J Adv Nurs. Epub 2021 Jul 10.
During the first weeks of the COVID-19 pandemic, 120 nurses were surveyed about nurse-to-patient staffing ratios, skill mix, and near misses in their hospitals. Personnel understaffing led to increased use of workarounds, and expertise understaffing led to increased cognitive failures, both of which shaped near misses. Hospital leaders should recognize both forms of understaffing when making staffing decisions, particularly during times of crisis.
Bubric KA, Biesbroek SL, Laberge JC, et al.
Jt Comm J Qual Patient Saf

.
2021;
Epub May 24
.
Unintentionally retained foreign objects (RFO) following surgery is a never event. In this study, researchers observed 36 surgical procedures to quantify and describe interruptions and distractions present during surgical counting. Interruptions (e.g., the surgeon or another nurse talking to the scrub nurse) and distractions (e.g., music, background noise) were common. Several suggestions to minimize interruptions and distractions during surgical counts are made.
Sign up for PSNet Issues today!
Training and Education
Update Date: July 28, 2021
WebM&M Case Studies & Spotlight Cases
WebM&M (Morbidity & Mortality Rounds on the Web) features expert analysis of medical errors reported anonymously by our readers. Spotlight Cases include interactive learning modules available for CME. Commentaries are written by patient safety experts and published monthly. Contribute by Submitting a Case anonymously.
Cynthia Li, PharmD, and Katrina Marquez, PharmD | July 28, 2021
This commentary presents two cases highlighting common medication errors in retail pharmacy settings and discusses the importance of mandatory counseling for new medications, use of standardized error reporting processes, and the role of clinical... Read More
Robin Aldwinckle, MD | July 28, 2021
A 61-year-old male was admitted for a right total knee replacement under regional anesthesia. The surgeon – unaware that the anesthesiologist had already performed a right femoral nerve block with 20 ml (100mg) of 0.5% racemic bupivacaine for postoperative analgesia – also infiltrated the arthroplasty wound with 200 mg of ropivacaine. The patient was sedated with an infusion of propofol throughout the procedure. At the end of the procedure, after stopping the propofol infusion, the patient remained unresponsive, and the anesthesiologist diagnosed the patient with Local Anesthetic Systemic Toxicity (LAST). The commentary addresses the symptoms of LAST, the importance of adhering to local anesthetic dosing guidelines, and the essential role of effective communication between operating room team members.
Have you encountered medical errors or patient safety issues?
Have you encountered medical errors or patient safety issues? Submit your case below to help the medical community and to prevent similar errors in the future.
Improvement Resources
Innovations
The Patient Safety Innovations Exchange highlights important innovations that can lead to improvements in patient safety.
Toolkits
Toolkits provide practical applications of PSNet research and concepts for front line providers to use in their day to day work.