Promoting Patient Safety.
AHRQ's Patient Safety Network (PSNet) features a collection of the latest news and resources on patient safety, innovations and toolkits, opportunities for free CME and trainings. The platform provides powerful searching and browsing capability, as well as the ability for users to customize the site around their interests (My Profile).
Browse the Collection
Popular Searches
What is Patient Safety?
The breadth of the field of patient safety is captured in various definitions. It has been defined as avoiding harm to patients from care that is intended to help them.1 It involves the prevention and mitigation of harm caused by errors of omission or commission in healthcare, and the establishment of operational systems and processes that minimize the likelihood of errors and maximize the likelihood of intercepting them when they occur.2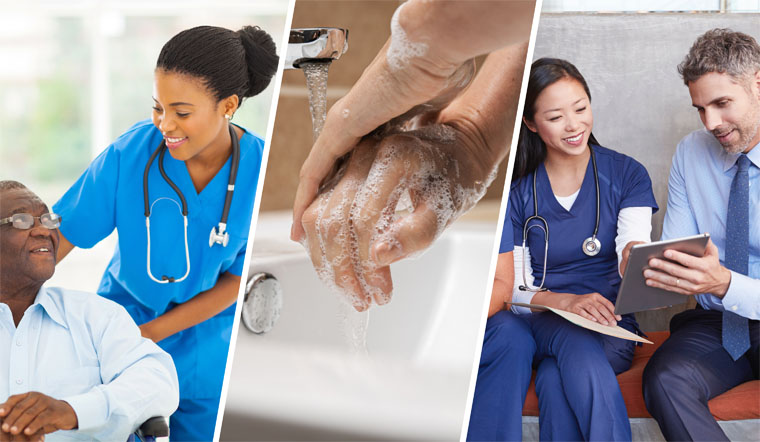 The PSNet Collection
November 30, 2022 Weekly Issue
PSNet highlights the latest patient safety literature, news, and expert commentary, including Weekly Updates, WebM&M, and Perspectives on Safety.
O'Hare AM, Vig EK, Iwashyna TJ, et al.
JAMA Netw Open

.
2022;
5
:e2240332
.
Long COVID-19 can be challenging to diagnose. Using electronic health record (EHR) data from patients receiving care in the Department of Veterans Affairs, this qualitative study explored the clinical diagnosis and management of long COVID symptoms. Two themes emerged – (1) diagnostic uncertainty about whether symptoms were due to long COVID, particularly given the absence of specific clinical markers and (2) care fragmentation and poor care coordination of post-COVID-19 care processes.
Temkin-Greener H, Mao Y, McGarry B, et al.
J Am Med Dir Assoc

.
2022;
Epub Oct 18
.
Long-term care facilities can struggle with establishing a safety culture. Researchers in this study used a national survey on nursing home safety culture to assess patient safety culture in assisted living facilities. Findings show that direct care workers had significantly worse perceptions of patient safety culture (including nonpunitive responses to mistakes, management support for resident safety, and teamwork) compared to administrators. A PSNet perspective discusses how to change safety culture.
Tougas C, Brimmo O.
Pediatr Ann

.
2022;
51
:e357-e363
.
Diagnostic errors involving pediatric musculoskeletal radiographs can lead to adverse patient safety outcomes. This article discusses contributing factors to missed or delayed diagnosis of pediatric fractures and strategies to improve diagnosis.
Sign up for PSNet Issues today!
Training and Education
Update Date: November 16, 2022
WebM&M Case Studies & Spotlight Cases
WebM&M (Morbidity & Mortality Rounds on the Web) features expert analysis of medical errors reported anonymously by our readers. Spotlight Cases include interactive learning modules available for CME. Commentaries are written by patient safety experts and published monthly. Contribute by Submitting a Case anonymously.
Nasim Hedayati, MD, and Richard White, MD | November 16, 2022
A 61-year-old women with a mechanical aortic valve on chronic warfarin therapy was referred to the emergency department (ED) for urgent computed tomography (CT) imaging of the right leg to rule out an arterial clot. CT imaging revealed two... Read More
Leilani Schweitzer | November 16, 2022
A 58-year-old man underwent a complex surgery to replace his aortic valve. The surgery required prolonged cardiopulmonary bypass time and cross-clamp time and there was a short delay in redosing the cardioplegic solution and the patient developed ... Read More
Have you encountered medical errors or patient safety issues?
Have you encountered medical errors or patient safety issues? Submit your case below to help the medical community and to prevent similar errors in the future.
International Meeting/Conference
Leapfrog Group. Grand Hyatt, Washington, DC; December 6, 2022.
International Meeting/Conference
Washington State Hospital Association. December 8, 2022, 4:00-5:00 PM (eastern).
Improvement Resources
Innovations
The Patient Safety Innovations Exchange highlights important innovations that can lead to improvements in patient safety.
Toolkits
Toolkits provide practical applications of PSNet research and concepts for front line providers to use in their day to day work.
Latest PSNet Libraries
Curated Libraries are groupings of PSNet content, curated by AHRQ and other patient safety experts. Watch
our introductory video
to learn more about this new feature and how it can be of benefit to you.
Create Your Own Library
Create your own library to save and manage content on any topic of interest. You can start by
searching for articles
or by creating your library right here.